The Wisper Wayfarer
In stock for demos now!
The Wisper Wayfarer…
a New Concept
The Wisper Wayfarer a first in the cycling industry.
  The Wayfarer has been designed from the wheels up as a 27.5″ eMountain Bike.  Mountain bikes are comfortable, safe, strong and easy to ride.  We added strong anchor points for a chain guard, kick stand, luggage racks and our purpose built extra wide, tough aluminium mudguards.  We then made a second frame without the crossbar, offering riders a step-through e-bike with eMTB DNA.
The Wayfarer offers three distinct riding styles based on the same frame.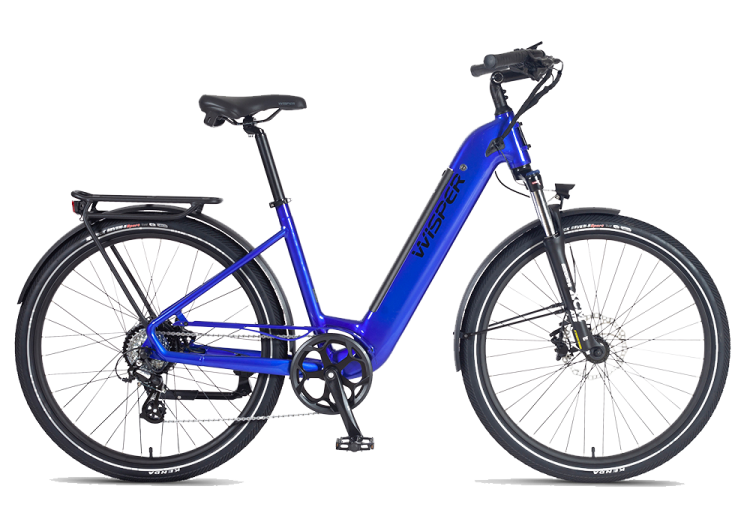 Specify your new Wisper Wayfarer in very much the same way as you would a new car…
Choose a frame? Step through or Crossbar 
Choose a motor? 50Nm Hub Drive or 100Nm Mid Drive 
Choose a battery 450Wh standard range or 700Wh long range
Choose a colour Iridium Silver is only available on Mid Drive bikes. Deep Red or Deep Blue are only available on Hub Drive bikes
Choose a style City, Adventure or Mountain
Frome these six simple choices you can create your own bespoke Wisper Wayfarer!
Here are some examples:
Wisper Wayfarer Step Through or Crossbar version
Crossbar and Step Through with rear hub drive from £1,750
Crossbar and Step Through with mid drive from £2,500
Factory fitted extras
City Pack £0
Adventure Pack £100.00
700Wh long range battery £250
Front basket £100.00